Gorham State Granted Charter
By Brent D. Olson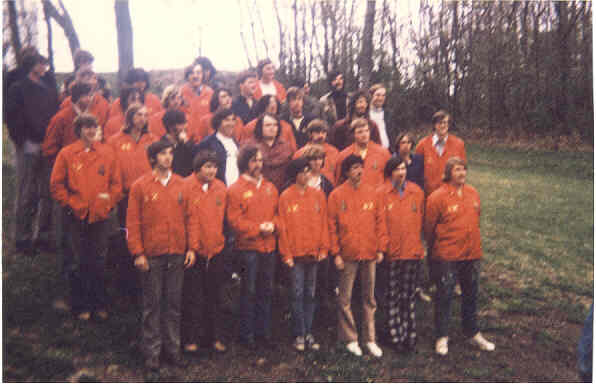 The Delta Chi Colony at Gorham State College was founded in the fall of 1967, under the guidance of Frank Zigrang, Director of Field Services. The first fraternity officers of the colony were: John C. Waterhouse, "A"; Peter J Giancola, "B"; Brent D. Olson, "C"; David W. Smith, "D"; Michael R. Cormier and David D. Smith, "E"; and Brian K. Lewis, "F". Mr. Everett Davis was selected as the "BB". Mr. Wensel Moberg became our faculty advisor. By the end of second semester of 1968 forty-one men had been initiated into the Bond of Delta Chi Fraternity by the brothers of the Connecticut Chapter.
The first semester of 1967 and second semester of 1968 were very eventful for Gorham State Colony. Its leadership on Gorham campus as a social fraternity was certainly evident. The colony's teams in intramural sports won the championships in tennis, soccer, football, basketball, and volleyball.
Delta Chi's entry in snow sculpture competition received the "Most Outstanding" award. John Waterhouse, "A", and Judy Shute reigned as King and Queen of the annual winter carnival. Highlights of our activities were: construction and maintenance of skating rink for the college campus; annual semi-formal cabaret at Carolines in Cape Elizabeth; auto-rodeo and road rally with the theme of auto safety; co-sponsoring a high school visitation day with Student Education Association.
Freshman Orientation was the kickoff for the fall semester of 1968. Again, Delta Chi's leadership was exhibited. Of the fifteen men who were selected to serve on the orientation committee, nine were brothers of Delta Chi Fraternity. On September 27, a social party was held to inaugurate the beginning of fall rush for upperclassmen.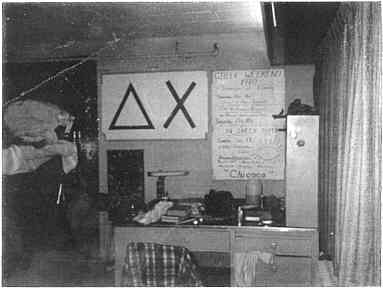 A formal reception for Dr. F. Kenneth Brasted, Florida '35, Executive Secretary, was held in Hastings formal lounge. Dr. Kenneth T. H. Brooks, President of Gorham State College; Dr. Patrick Smith, Dean of students; Mr. Jerome Sullivan, Dean of Men, attended this reception to become acquainted with Dr. Brasted as Executive Secretary of Delta Chi Fraternity.
On October 13, Delta Chi colony celebrated its first Founders' Day with a banquet at the Holiday Inn in Portland. The traditional white carnation was worn by the brothers who were accompanied by their dates.
On November 1, we sponsored a hayride for all interested. It was a big success and coincided with the season's first snowfall. On November 21, five brothers volunteered to serve as guides on a visitation day for the mentally retarded children in southern Maine.
Twenty-five students from Gorham State College were selected for recognition in the 1968-69 edition of Who's Who Among Students in American Colleges and Universities. The following five Delta Chi brothers were among the twenty-five selected: Darrell Johnston, Peter Giancola, Nelson Smith, Barry Wherren, and William Stone.
On December 13, 1968, six pledges of the Gorham State Colony were initiated into the Bond of Delta Chi Fraternity at the University of Connecticut.
Our leadership on college campus was shown by presenting an all college convocation. On January 10, Dr. Bruce Poulton of the University of Maine, Orono, addressed the student body concerning Maine's sister state, Rio Grande de Norte. A book sale, sponsored by Delta Chi, was a money raising activity which raised approximately $85 to contribute to the Partner's program.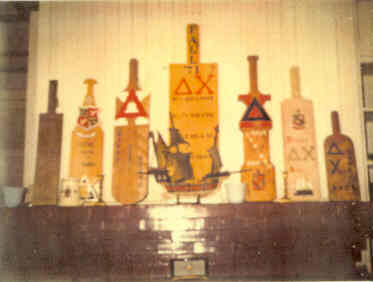 Delta Chi's annual skating rink was constructed and maintained again this year. However, unfavorable weather hindered its utility to the campus.
A slave auction was sponsored by us and a majority of the brothers went up to bid and were auctioned off to the girl who bid the highest. This social function proved to be very interesting and humorous.
The Gorham State Chapter promotes service projects as well as social functions. On February 13, 1969, five Delta Chis gave several hours of their spare time to work for Goodwill Industries of Portland, Maine. Goodwill Industries is a non-profit organization, which is dedicated in providing work, clothing, and other life essentials for the handicapped people of Maine. In the future, we are planning to give more assistance to this necessary and worthwhile organization.
A weekend to remember! It was the weekend of annual winter carnival and chapter installation of Gorham State Chapter. On Friday, February 28, Peter Giancola, "B", and Sherry Spearin, president of Alpha Xi Delta sorority, were the ruling royalty as king and queen of winter carnival ball. They were the candidates sponsored by Delta Chi Fraternity and were elected by an all college election. On Saturday afternoon, March 1, the winning snow sculptures were announced at the concert with the Box Tops. Delta Chi walked off with the "most outstanding" snow sculpture trophy again this year. Having won all the competitive events of the weekend, it was really "Delta Chi's weekend." The crowning touch was on Sunday, March 2, when we received our charter. The chapter installation was held at Lafayette Town House, Portland, in the Mayfair Room. Invocation was delivered by Rev. Kingsley Strout and the toastmaster, Timothy D. Cook, '68, introduced the distinguished guests-faculty, administration of the college and Delta Chi alumni. Dr. Kenneth T.H. Brooks, president of Gorham State College, gave a welcome from the college. Fred Almquist, president of the fall pledge class, presented the Fraternity's crest and Steve Arkin, president of spring pledge class, presented a large paddle to the Fraternity with all the names of the pledges. Dr. Ralph E. Prusok, "AA", was the main speaker at the chapter installation. Jay C. Lacke, Regent of Region No. 8, presented the charter to John Waterhouse, "A".
This weekend will be remembered by all the brothers of Gorham State Chapter as an essential block in its foundation of brotherhood.
Delta Chi Quarterly, May, 1969
View a copy of The Observer Vol. 10, Issue No. 11, March 11, 1968: Click Here